This is the second part of a series on the foreign procurement networks supporting Iran's missile and military programs. Part one focused on trading and technology companies that supplied Iran with products for its ballistic missile program.
A sanctioned Chinese supplier of centrifuges for Iran's ballistic missile program has ties to Chinese military end-users, defense companies, and universities, including those engaged in partnerships with academic institutions in the U.S., Europe, Asia and Africa.
Zhejiang Qingji Ind. Co., Ltd is one of China's top manufacturers and suppliers of centrifuges. According to its website and social media, the company's high-tech separators and centrifuges have received various industry awards and garnered "huge demand in both the local and international markets."
In June 2023, the U.S. government sanctioned Zhejiang Qingji for selling several hundreds of thousands of dollars worth of centrifuges, equipment, and services to Parchin Chemicals Industries (PCI), a subsidiary of Iran's Ministry of Defense that produces ammunition and propellants for rockets in support of Iran's ballistic program.
Through intermediaries, Zhejiang Qingji supplied PCI with centrifuges to produce nitrocellulose, a key component of propellants and combustible materials used in ballistic missiles. According to the U.S. government, Zhejiang Qingji used front companies to facilitate shipments to, and financial transactions from, the Iranian government through the U.S. financial system to evade sanctions.
Several Zhejiang Qingji employees were also sanctioned for "deliberately obfuscat[ing] the ultimate end-user of Zhejiang Qingji's shipments" despite warnings from the Chinese government about dealing with designated companies in Iran.
Chinese Military End Users
Zhejiang Qingji has ties to the Chinese defense and military sector, including U.S.-blacklisted entities involved in China's nuclear program.
The company shares an address with a unit of China General Nuclear Power Corporation, a state-owned energy corporation listed on the U.S. government's Non-SDN Chinese Military-Industrial Complex Companies (NS-CMIC) and Entity lists for acquiring advanced U.S. nuclear technology for diversion to military purposes in China. The shared address is not on Zhejiang Qingji's official records or website, but is listed on several of its patents for two-stage pusher centrifuges and was provided by the U.S. government in its recent designation of the company in June 2023.
Sheng Hua, the CFO of Zhejiang Qingji, also serves as an independent director at another company that counts nuclear-related state-owned entities in China as its largest customers.
Another director of Zhejiang Qingji, Yan Hao, holds an executive managerial position at Hangcha Group Co., Ltd., which has military customers including the PLA Rocket Force, Equipment Development Department, and Central Military Commision Logistic Support Department. Zhejiang Qingji and Hangcha also share an owner, further emphasizing their connection.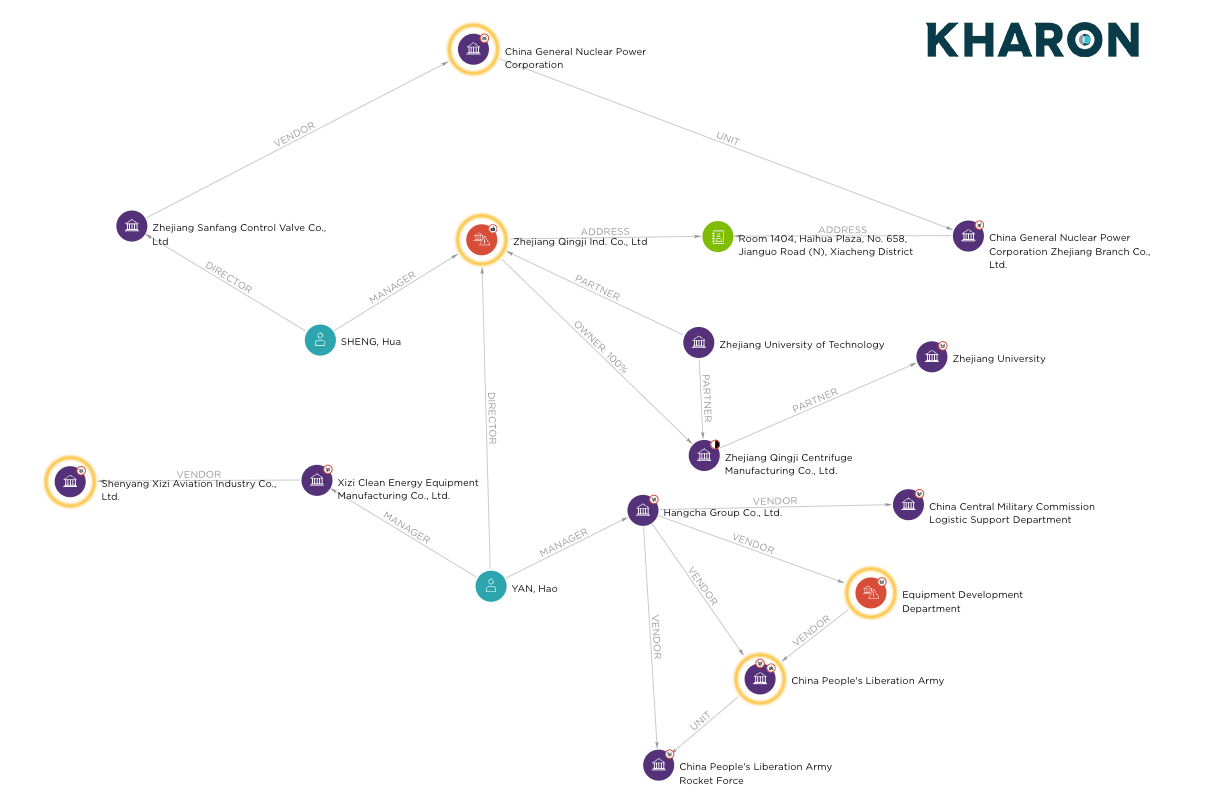 Kharon ClearView and LensView users can explore the full network directly in the Kharon platform. Click here to view.
Academic Partnerships
Starting in 2011, Zhejiang Qingji engaged in an initial two-year partnership with Zhejiang University of Technology (ZJUT) – one of mainland China's top industrial universities – on research and development of a two-stage pusher centrifuge, which utilize centrifugal action for the separation of materials of different densities and phases. ZJUT and Zhejiang Qingji jointly announced the completion of the effort in 2013, and that a two-stage pusher centrifuge was approved and the technology had reached the "international advanced level," according to a press release. Researchers from Zhejiang Qingji and ZJUT have also jointly published numerous studies on centrifugal separators and technology.
As of June 2023, ZJUT also partners with Zhejiang Qingji Centrifuge Manufacturing Co., a wholly owned subsidiary of the sanctioned entity, on the development of "new marketable products," according to the company's website. 
ZJUT has partnerships with over 40 institutions worldwide, including universities in the U.S., U.K., Japan, South Korea, and Germany. Notably, a scholar in the ZJUT-Qingji partnership collaborated with the Germany-based Paderborn University on three research papers between 2021 and 2022, with a primary focus on elastoplasticity – a phenomenon showing both elastic and plastic properties, typically as a result of being stretched beyond an elastic limit.
Research Security and Integrity
Governments have warned against unwanted foreign influence in universities and academic institutions, particularly in light of efforts to counter China's advancements in military technology.
Canada's National Security Guidelines for Research Partnerships, as well as the U.S. National Defense Authorization Act (NDAA) of 2019 and National Security Presidential Memorandum-33 (NSPM-33) have set out guidance for risk-based security reviews of foreign academic partnerships to strengthen protections of Research and Development (R&D) against foreign government interference and exploitation.
In June 2023, the U.S. Department of Defense announced a new policy for risk-based security reviews of academic and research partnerships to combat foreign influence in federally funded scientific research. See "Pentagon Mandates Security Reviews for Foreign Influence in University Research."
In 2022, the European Council adopted conclusions on "Principles and values for international cooperation in research and innovation," which called on Member States to take measures to counter foreign interference and manage foreign interference risks in international research and innovation.